Some might say there's no such thing as centrifugal force.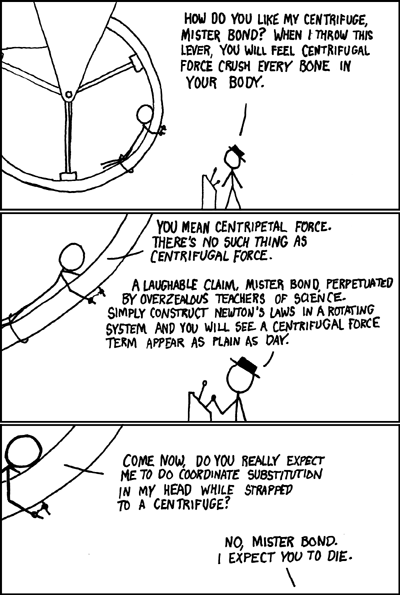 Such people are probably not molecular biologists, cell biologists, nor any other kind of scientist who has to separate very small things on the basis of size, mass or density; or all three. Because when you spin something round it does tend to move away from the centre of spinnage. That's spinnage, not spinach. Thank you. And wet-wranglers know that heavier, denser things (quiet at the back, Steel) move faster under this force we call 'centrifugal'. Even nuclear physicists have worked this out.
Now the thing is, when you're trying to separate things that are very small, you tend to have to have quite a reasonable centrifugal force for this to work. And the smaller the size differential, the higher this force needs to be if you're to do it in a reasonable time. So if you're separating cultured mammalian cells from the trypsin solution, you spin at with a relative centrifugal force equivalent to an acceleration 400 times that due to gravity (or g — not to be confused with Gee), for about two minutes. If you want to separate bacteria from their culture media, you're looking at about two thousand g for five minutes, or thirteen thousand g for thirty seconds. (It's not just a matter of real cells being bigger than bacterial cells: if you spin real cells too hard they tend to get a bit upset.) But when you want to separate F-actin from G-actin, it pays to be able to reach one hundred thousand g. You can do it at less, about twenty thousand, but then it takes half an hour to an hour instead of ten minutes. Let's not forget plasmid DNA from a solution of ethanol and acetate — sixteen thousand g for ten minutes is good, here.
And the point of all this is that you need quite sturdy and expensive equipment. Consider a rotor that is about a foot across, developing thousands of accelerations due to gravity, spinning at say twenty thousand revolutions per minute (this is not uncommon for polymerized actin; or indeed caesium chloride density gradients, which I haven't done in 15 years because there are much better ways of getting the same result, but anyway). The circumference, or the distance travelled by a single tube in this rotor, is going to be ∏ × 0.3 m = 0.94 m. Call it a meter. It travels this distance 20,000 times a minute. That's 1,200 kilometers an hour. 745 mph. In other words, Mach 1 (near enough). Which is why laboratory centrifuges — at least, the ones that go at a reasonable lick — are not only big and sturdy, but also evacuated (otherwise they'd be much noisier, and hotter, than they already are).
So when I got an email from a particular ARC Australian Research Fellow saying
Yesterday i discovered a fault with the Sorvall Evolution centrifuge on level 5 (floor-standing model). The "cone" upon which the rotor is seated had become partially dismantled.
This morning, i was alarmed to find that my "out of order" notice had been removed. Tape covering the start button had been removed and the centrifuge had been operated. Foolhardy and potentially dangerous
behaviour.
I too was somewhat 'alarmed', if not 'gibbering', as well as 'grateful I'd left the city, indeed the country'. Now, I know the centrifuge in question, and although the lump of metal that makes up the rotor doesn't travel at Mach 1, it is a heavy lump of metal and goes bloody fast. And you'll all recall that E = ½ m × v². Which leads directly to this sort of metal fatigue

Flying metal fragments damaged walls, the ceiling and other equipment. The shock wave blew out the laboratory's windows and shook down shelves.
The email was followed up by the safety officer, who informed us
[ARC fellow] is absolutely correct when he says not to operate an 'out of order' centrifuge.This is very dangerous, and also could make an existing problem more serious and more expensive to fix.
which is slightly understating things.
Note also that NO-ONE should use one of these large centrifuges on any of the floors unless they have first been instructed in proper practice by the equipment/room custodian, or a senior member of your lab who knows what they are doing.
That's the MMB screwed, then.