I am 46 years of age and I have just discovered Jupiter.
This is a surprising revelation, even to me. I have strong memories of being a child besotted with things astronomical. Looking back now, however, I have to wonder at the superficiality of my interests.
I was certainly a devotee of space and space rockets. Though too young to properly comprehend the significance of the Apollo 11 moon landing, I soon caught up with later missions and have since kept at least one eye on our forays into space. I remember scouring the library for titbits on the planets of our solar system and the stars and galaxies beyond. But my familiarity was almost entirely bookish. Perhaps it was effect of the near permanent grey skies of my youth in Northern Ireland, but I never really thought to look up.
The trajectory of my childhood interests carried me to Imperial to study for a degree in physics. There I learned the maths of Kepler's laws governing the motion of the planets and of the gravity that slings them around the sun, once even measuring G, the gravitational constant, in a laboratory practical using apparatus that conformed closely to Cavendish's original design. I also delved into the nuclear reactions that power the stars. But despite increasing my comprehension of celestial mechanics, the planets and stars remained distant, not just in space but also in my imagination. It's a puzzle to me that this separation was not bridged sooner: I could see things in fantastic detail on the page but was still not connecting with reality.
Later I found myself lecturing at the same physics department but by then had hitched my star to the life sciences and ended up teaching molecular biophysics in a timetable slot shared with cosmology. I used to start my lectures by congratulating my students on the tremendous sagacity of their choice. Cosmology was all very well, I declared, but it was a subject concerned with the investigation of a universe that was largely invisible, being mostly composed of dark matter. Even those parts that could be perceived were too far away to see in any detail. Far better, I opined, to focus our attention on the one corner of the universe where something really interesting was actually going on — by which I meant the superabundance of life on planet Earth. The media frenzy whipped up by NASA at the discovery of the tiniest particle of water on some distant planet or satellite, I noted, was an inadvertent admission that life–or even the merest possibility of life–was the topic that excited humankind's most passionate interests.
Although I was only practising my jaundiced cosmological eye as a piece of rhetorical trickery, I suppose it may have had the effect of distracting me still further from my latent interest in astronomy. (Perhaps I was also partly motivated by envy: cosmology was always a more popular course among the physics students.)
And then in the past several months an unusual conjunction of events conspired to reignite my enthusiasm. In September astronomer Alyssa Gilbert popped up on Nature Network, clearly determined to tell the world about the wonders of her subject. At about the same time my daughter joined an astronomy after-school club led by one of her more enthusiastic science teachers so the topic started to come up at home. I realised then that, despite my own long-standing interests, I had never in my life peered at the heavens through a telescope. That was something I wanted to change.
Thanks to Alyssa and NN's very own Londonista, Matt Brown, I found out about the public observing evenings held at the Greenwich Royal Observatory and promptly booked tickets for myself and my son and daughter for a moon viewing in late October.
But alas, an evening that I was almost surprised to find myself looking forward to with bubbling excitement turned to sour disappointment when the cloudy skies stubbornly refused to break for the entirety of our session. At the observatory they didn't even bother to remove the lens cap from their magnificent 28-inch refractor telescope. I was forced to swallow a second bolus of dismay when one of their resident astronomers (@Skyponderer) posted a beautiful picture of the moon on Twitter, taken by just holding his iPhone to the telescope eyepiece the following evening!
I was gutted.
And faced with a dilemma. I could try to book for another night hoping for clearer skies; but the tickets weren't exactly cheap and the risk of another disappointment was palpable. This fear, and the remark by one of the Observatory's speakers that a modern amateur telescope would produce images almost as good as their huge but elderly refractor, triggered a thought about buying a telescope of my own.
And so it came to pass that on Christmas night I was out on the patio fiddling with the optics of a Sky-Watcher Explorer-130P SupaTrak Auto, a motorised Newtonian reflector with a 130mm diameter mirror. It was a clear night and bitingly cold. For a first session I set my sights on looking at the moon which hung luminously, three-quarters full, in the night sky. But the practicalities of setting my sights proved a little tricky since the spot-finder, an accessory fixed to the barrel of the reflector that conveniently places a red dot wherever the telescope is pointed, had yet to be properly aligned. I swung the telescope around to put the red dot in the centre of the moon and squinted into the eyepiece.
All I could see was a blurry glow which leapt and wobbled as my numbing fingers twisted the focus knob. But no amount of adjustment seemed to sharpen the image. I then realised that since the spot-finder had yet to be calibrated, the telescope was not actually pointed at the moon, though it must have been close. Grabbing the controller I nudged the telescope barrel towards the glow and was immediately rewarded as the bright disk of the lunar surface slid into view. For the first time in my life I gazed at the cratered, pitted surface of our silent satellite, thrown into sharp relief along its shadowed edge. No amount of reading or studying, I suddenly discovered, had prepared me for the amazing intimacy of that encounter. I called my children to come outside and share in the lunar glory.
A couple of nights later I was out again – just looking. I haven't yet made much effort to read up on the ins and outs of star-gazing, to navigate my way across the night sky. It was my brother-in-law who reminded me that the ecliptic–the plane that, give or take the odd deviation, contains the orbits of the moon and planets–would be defined by the path of the sun (well, duh). For now, I am content just to explore.
Spotting a bright star low in the sky over towards the west I marked it with the red-dot–now correctly aligned–and was pleased to see this, a pale disk flanked by points of light:
Keen eyed readers will have noticed the similarity between my drawing (I hadn't yet acquired a bracket for my camera at that point) and one produced some centuries earlier by Galileo Galilei: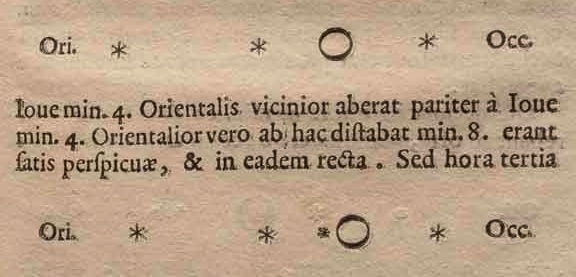 From Galileo's book, 'The Starry Messenger'; image hosted at www.lettherebenight.com
Galileo's observation of Jupiter, and what he correctly interpreted to be its moons, were a vital part of the observational evidence that not everything in the visible universe orbited the Earth. It was these observations that initiated his collision course with the Catholic church.
I claim no affiliation with Senor Galilei, a far greater scientist than I will ever be, but as I gazed with my own eyes at Jupiter aligned with its satellites that night, I could nevertheless sense something of the transformative power of seeing things for the first time. What an incredible moment that must have been for him, as the carapace of stars was punctured by the moons of Jupiter.
Tonight I was out again and, turning my view towards Jupiter once more, was thrilled to see that in the four days since I'd last looked the moons had changed position:
There is nothing original or new in this. But for me, it means that the universe has come alive and I am attuning to its rhythms. There is something wonderfully fresh and vital about the night sky that I had simply–shamefully–been ignoring.
Last night, though the cloud cover prevented me from sighting Jupiter, I managed to catch the glorious "blue" moon, the second full moon of the month of December. I was able to try out the camera attachment that I purchased hastily this week and took the photograph above, that hovers serenely, anciently, over the mess of text.
It's by no means a great picture of the moon — it could be sharper and there is a rim of chromatic aberration along the top edge. But I am utterly delighted with it.