This seems like a particularly good time to focus on what's nice about blogging. Dunno why. And if anyone reads this who doesn't know what I'm talking about: you don't want to know. Really.
Anyway, coincidentally I just stumbled across this post Bora wrote in late 2008 over on 'a blog around the clock'. In the comments, he actually linked to a post I subsequently wrote and in which I linked to his post – I didn't actually realise this until today. Goes to show that, at that point, I'd barely started blogging and was (and still am) stumbling around – not only because of current technical limitations.
Bora also linked to a post by Corie Lok on the Boston blog on what is acceptable in the blogo/commentosphere. Look, it's not as if we haven't had that discussion, even during the small amount of time I've spent in the blogosphere so far. In the comment thread on Corie's post, you'll find this cartoon – which puts it quite nicely: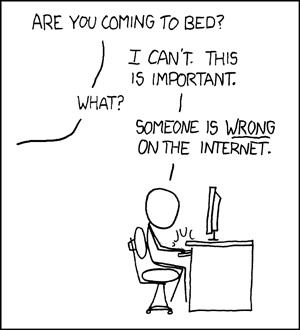 Could it be that we just need to agree to disagree on what we like about blogging and the reasons we do it for? Can we happily carry on with our different styles and approaches to blogging? And live happily ever after have a watercress sangwich get back to it?
In that spirit, I propose we revive the why do we blog meme Martin Fenner started in 2008, and which produced so many different answers from such a wide variety of people. At that point, I had been blogging only for a few weeks and was all bright-eyed and bushy-tailed (and actually quite shy about the whole thing). Here is my contribution.
My main drive then could not be more mainstream: it was 'science communication', and what finally tipped me over the edge to start this suspicious activity called 'blogging' were the many points made in a journal theme section I was assembling at the time – I suddenly felt that I couldn't just talk about it, I had to get off my butt and do something myself.
But I didn't think just 'presenting' or 'explaining' science would work for me; that didn't feel right. I needed a different angle, so I decided to try and tell the stories of people behind the science, hoping this "might allow others to relate on a more personal level to science topics and the doing of research", to quote from my replies back then.
Funnily, I did initially take myself completely out of the equation – I just didn't think that people would want to read about me. I'm less shy now, if you care to look into my archives.
Anyway. Well over a year down the line and already quite a bit more jaded about the experience, I'd rephrase the questions slightly and answer a bit differently.
I still want to get people interested in science. And that now explicitly includes my wider circle of friends and acquaintances, who are about a third scientists and a third in science support, while the last third do not have anything to do with science at all. Especially in the case of that last third, I find explaining science tricky sometimes. I am now bold enough to distribute the url for my blog rather generously, even to people I meet in my job – I even bragged about it in the interview for my current position. Blogging under my real name and with my professional affiliation clearly stated on my profile here on NN is important for me and plays an important role concerning 'reaching out' to people that don't usually spend much time online, and talking to people who wouldn't otherwise look at a blog at all.
This recent kerfuffle (again, if you've missed it, good!) has – for me – just reinforced how important it is to allow different styles and accept and tolerate (blog-)cultural differences. So, in the general spirit of kissing and making up, I invite you to join in and answer these slightly different questions1:
What made you start blogging?
Is a sense of community an important part of blogging for you, or do you prefer blogging 'solo'?
Are there blogs you never look at? If yes, why (be nice and don't name names)?

[rephrasing this question: Are there blogs you stopped reading for some reason or that might be interesting, but turn you off right away? If yes, why?]

Who are you blogging for/who are you talking to?
Do you think you may be getting people exposed to some science through your blog who otherwise wouldn't be?
Do you think any non-blogger cares about any of the above things?
1 Should you chose to answer these questions you accept that, after getting it all out, you are done and will stop the off-putting meta-blogging.

—
Answers on other blogs (please let me know if I'm missing any):
DrugMonkey
drdrA
GrrlScientist
Heather Etchevers
Alyssa Gilbert
Prof-like Substance
Bob O'Hara
Katherine Haxton
tideliar
Answered in the comments:
Eva Amsen
Cath Ennis
Richard Wintle
Stephen Curry
Henry Gee
Grant Jacobs (his blog)
This post was first published on Nature Network, which has since been discontinued. The post has been moved to SciLogs.