The layout of my building1 forces me to spend a lot of time in the basement every morning, waiting for the lift (elevator). Once the lift arrives there is little chance of thinking anything much other than "oh please let it not get stuck this time", but the long wait gives me time to ponder.

First of all, why do both the British and North American words focus just on the upward motion of the apparatus? Instead of elevator and lift, why not depressor, and, um, drop?
Actually, that is not a happy thought before braving our notoriously unreliable (and only 4 years old!) system. My next thought this morning was quite a brain twister though, and kept me nicely distracted as the lift eventually arrived in the basement, started promisingly, then rested for a while between the 2nd and 3rd floors before safely delivering me to my destination.
When a lift starts moving, and then again when it stops, your body is obviously aware of those sensations. But do you actually picture yourself as being in motion during the trip? I think that before this morning's revelation I tended not to, and that my mental image was something approaching a miraculous theatre set change while the doors were closed – from the bare wall facing the lifts in the basement, to the desks and nice view of the park that I see as I arrive on my floor. It is impossible to remember properly now though.
So, this morning, I pictured myself as being in motion. I imagined the building, lift and shaft as being see-through, and myself as both in the lift and as an observer on the street. It was extremely odd to picture myself hurtling (intermittently) upwards in that little box. In fact it reminded me of those problems we used to get during the Mechanics section of my A Level maths course.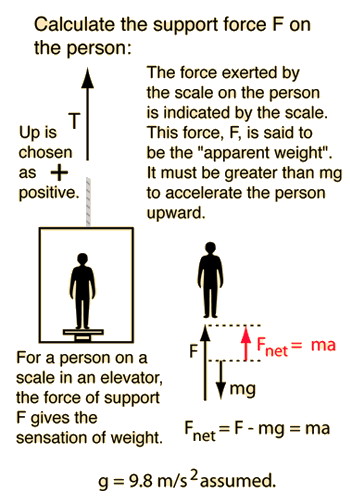 Taking the stairs and dodging the trucks in the back alley this evening suddenly doesn't seem like such a bad option.
1 My office is on the 4th floor, which is only the 3rd floor by UK reckoning. But I arrive, store my bike, and shower in the basement, which has no staircase leading directly to the 4th floor. I can take the stairs up to the back alley, dodge the delivery trucks, walk around the whole building, come in the main front entrance, and then take the stairs to my floor, but that would take almost as long as waiting for the lift.