Dusk was already falling, along with a light drizzle, earlier this afternoon as I pushed brown ovoid objects repeatedly into heavy wet earth. Carelessly dressed against the cold, my muddy fingertips going numb, I worked the trowel and hoped I wouldn't slice open any previously planted spring bulbs. The truth is I've completely lost track of how many I've actually deposited under our row of dwarf fruit trees over the past six months, let alone their precise coordinates. Some have come up already – snowdrops and crocuses in bloom, and the first signs of daffodils, tulips and hyacinths. Others may yet emerge, if they haven't been stolen by squirrels or blighted by parasites. In short, the space is fully booked with standing room only.
But I've been longing for Convallaria (lily-of-the-valley) ever since I saw them growing wild in the forests around the European Molecular Biology Laboratory in Heidelberg during my sabbatical last year – which in turn conjured up the neat row of nodding ivory bells that my mother tended along the front path of our old house in Ohio. Their fragrance has always invoked new beginnings, but also sad endings. Richard brought some home for me yesterday, because I was blue and he always seems to know exactly what is needed when I'm lost at sea.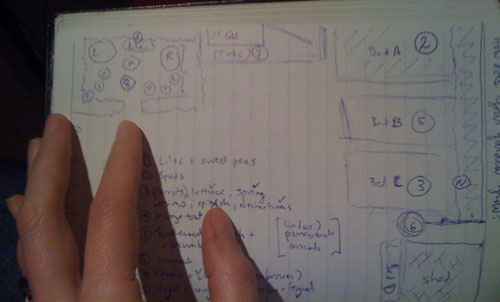 The orchard isn't the only thing that's fully booked in our back garden. We have overly ambitions plans for the limited space in the rest of the lawn, and I fear my most recent Thompson and Morgan order went a bit over the top (the spuds in particular – do I really need 2.5 kg each of first earlies, second earlies and a maincrop?).
But I can't resist potatoes, the way they taste dug straight from the ground on a sultry summer evening, boiled until their skins are just flaking off and tossed with mayonnaise, salt, pepper and chives, with barbecued meat, a glass of cold Pinot Grigio and the scent of citronella candles.
The potatoes, bulbs, herbs and climbing nasturtiums are my domain, and Richard does the vegetable beds, the tomato greenhouse, the sunflowers and sweetpeas – and the heavy digging. We got a late start last year because we didn't move in until March, with some of our tomatoes withering on the vine in November, but now we're fully prepared for a long and prosperous harvest.
Post-script: It was only today that we dug out the last of the carrots and leeks.