Small spaces at home, hitherto neglected nooks and crannies, have begun to assume a far greater importance in our lives than they once did. These are those closets, spare bedrooms, cupboards under the stairs, corners of bedrooms, edges of dining tables or breakfast bars and so on where many people now do their work, when once they would commute to somewhere perhaps more suitably equipped.
I'm lucky in that even before the Present Unpleasantness I have worked at home for most of the time. When the Gees first moved to Cromer, in 2006, I really did work in a cupboard under the stairs, though back then I commuted more. In 2011 we remodeled the house, adding a kitchen diner at the back, so I moved into (most of) the old galley kitchen. And that's been my office/ studio/ man cave/ dojo/ fun palace/ library ever since. This is what it looked like a couple of weeks ago.
I did most of the working (and music-making) at the far end. Although it's a long narrow room, it seems much longer because I used a wide-angle lens to get it all in. In actual fact the total floor area is less than six square metres.
After working hard all summer at the Submerged Log Company, as well as finishing my latest book — and recording the audiobook version thereof — I felt that it was high time for a refurb. I spend quite a lot of time in the home office, whether for the day job; writing on my own account; writing and recording music; or just relaxing; and after ten years of occupation it had begun to look a bit scruffy. There were some ugly stains on the ceiling (a result of minor flooding from the bathroom above), and I realized that behind the bookshelves there was still some raw plaster and even a few holes from when the room had once been a kitchen. Even the wire that had powered the cooker still protruded from the wall. So I decided to take some time off to gut the place.
It took four days — FOUR DAYS — to remove the hundreds of books, sound equipment, sundry gewgaws, bibelots, unicycles, girrafes, and other stuff. Luckily we have a capacious garden summerhouse.
It took another three days to prep the place for repainting. I pulled up the scuzzy floor tiles. I filled up all the holes. I vacuumed. I threw out trash. I vacuumed again. I sugar-soaped the walls. I did more vacuuming. The dust, my dears, the DUST.
The time came at last to apply, you know, actual paint.
And here it is after the first coat of Homebase Pure Brilliant White. One thing I discovered while doing this job is that, like Michelangelo, I don't like painting ceilings very much. A friend suggested I send the bill to the Pope. So His Holiness might soon be getting a receipt for a large tub of the aforementioned Homebase Pure Brilliant White. and a paint roller.
After two coats — and two days — Offspring 2, who has far greater attention to detail than I, came in to touch up the bits I'd missed.
Then the time came to install a large shelf with legs, which has pretensions to being a desk.
The next task was to attach fourteen vertical runners to the walls, for the shelves. This meant drilling a lot of holes, with a power drill. Another thing I discovered while doing this job was that I am not fond of power tools, especially in a confined space. The NOISE. You might ask why I didn't use the same holes as before. Well, that would have been too easy. Besides, I wanted some of the shelves in different places.
This took two days. Or, rather, four hours, spread over two days. I could only take so much of the noise (and the vibration), and I wanted to spare the neighbours. After that I could put up the shelves.  Quietly.
After a lot more vacuuming it was time to install new carpet tiles. Last time I did this I glued them down with special tile adhesive, and after some time in this confined space I felt that I was being cheered enthusiastically on by Harvey the Giant Pink Octopus and his All-Star Orchestra featuring the Crustacean Choristers, with, towards the end, Agama Gekko and the Iguana Brass. This time the tiles were thicker and backed with bitumen, so could simply be laid flat on the ex-council lino, without adhesive of any kind, not even hallucinogenic, although I still had to cut a few to fit. This only took an evening, but took longer than it might have done because the dog felt she had to come and 'help'. This meant that short bursts with a sharp knife and straight-edge were interspersed with longer intervals of rolling around on the floor admiring whichever soft toy was the dog's favorite that day.
Only then could I install the computers and associated electrical equipment – much easier to do before the books come back.
In the meantime, comments had been made on Social Media about the scruffiness of my chair. Well, I have had that chair for at least a quarter of a century. I have written many books while seated in that chair, notwithstanding inasmuch as which processed many thousands of submerged logs. That chair was good enough for me. But Mrs Gee very kindly re-covered the chair with the fabric from some very colorful but worn-out trousers she once wore, giving the chair a fetching and funky new appearance.
And now, the books. The refurbishment was an excellent opportunity to have a cull. I really don't like getting rid of books, but as I am fast coming up to rapidly approaching my seventh decade, I made one of two executive decisions – that if I have read a book and am unlikely to read it again, then I should donate it to a charity shop so someone else can have a go. This picture shows a huge pile of crates filled with books destined for our favourite secondhand bookstore, which is at Blickling Hall, a local National Trust property. Almost all of these books are from the Office, though Mrs Gee and I have been thinning out drifts of books that have accumulated elsewhere chez Gee. Working at a publishing company, as I do, I tend to accrete books without knowing it. I also had a large pile of generic thrillers, acquired in two episodes. The first was when a elderly neighbour was in hospital for some weeks trying to shake off pneumonia. He was a voracious reader, and before each visit I'd trawl charity shops for airport-lounge-style thrillers and whodunits. Sadly his pneumonia won in the end, and after his death, his widow returned the books. The second episode was when I broke an ankle in August 2018 and was confined to bed for a couple of months, and neighbours and friends kindly gave me lots of entertaining reading. Much of it now read – the rest, I'm unlikely to – so off they go.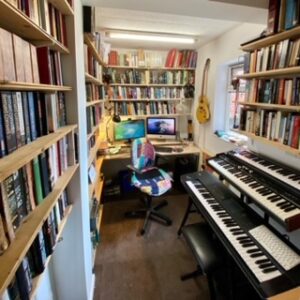 The remaining books re-shelved, the last task was to reinstall Flabbey Road, my home studio. Which I did. The second executive decision I made was that my days of live playing are over. I really don't much like wiring things up, taking all the wires out again, schlepping huge boxes around in the middle of the night, wiring them up again, playing for a few bored punters wildly enthusiastic crowds, and doing it all in reverse when I could be comfily at home watching Strictly with the family. Besides, lockdown has taught me that I can record whole albums at home, as well as audiobooks.
Here is what it looks like from the other end.
And that's it. It took the full fourteen days, or even a fortnight. And it was exhausting. Some days all I could do of an evening was flake out in front of the TV while I felt the blood pounding in my arms and legs. All that moving of books and equipment, all that stretching and bending, toting barges, lifting bales, while wielding a paint roller/ vacuum cleaner/ carpet knife/ etcetera.
But I'm very glad it's done. I must say I couldn't have done it without the support of the family, who had to tolerate the mess and dust and fumes and general chaos. Should be good for at least another ten years. Next stop – tidy the toolshed.