There are some TV characters that people love to hate. What's the harm, you might say, when you know that they aren't real people? But can these attitudes provide us with a mirror for some of the ugly ideas still pervasive in society about how women should act?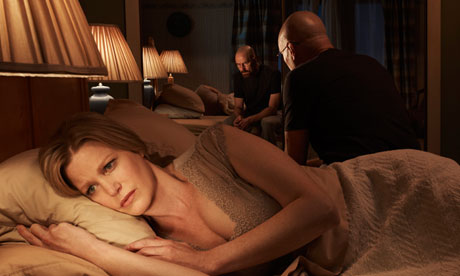 Anna Gunn as Skyler and Bryan Cranston as Walter White, season five. Photograph: Frank Ockenfels/AMC
Being a bit behind the times, I have finally got around to watching the very last episode of the extremely popular series Breaking Bad! (**Spoiler alert, maybe don't read unless you have at least reached Season 5 – though I don't give away too many major plotlines).
Not being a huge TV fan, I almost never get sucked into watching these multi-season epic shows (24 was an exception, back when I was studying for my Masters. Jack Bauer rocks). Consequently, I often find myself out of the loop when conversations turn to the latest "in" show, whether it's Game of Thrones or Mad Men. But, armed with the wondrous invention of TV streaming, when sick at home for a few days recently I had the ideal time and means to dip into popular culture, and chose Breaking Bad for my 'fix'. I quickly got stuck into the compelling storylines and characters.
I didn't have a strong opinion on Walter White's wife, Skyler, in the beginning, as she was sort of a background character; Walt was at the centre of the action. Although Skyler's innocent ignorance of the situation made me feel sorry for her, it was enjoyable to watch the building of suspense toward that moment when she would eventually find out what her husband was mixed up in, and how he had changed from the person she thought she knew. It made for excellent drama!
There were times when I cringed, or shook my metaphorical fist at the screen when she was being manipulated by Walt – which was often. But, as soon as even a fraction of what Walt was doing clicked into place for her, from the point when he let it slip that he had a second cellphone as he was drifting off under anaesthesia, we really got to see what Skyler was made of – and she was not going to be a submissive doormat. I found her to be a strong, believable character, so I delved into some commentary online, to get a sense of other takes on the dynamic between Skyler and Walt. In my searching I came across this recent (2013) editorial piece in NYT, written by the actress who portrayed Skyler, Anna Gunn, describing her utter bewilderment at the amount of hatred directed toward her character. I was shocked to learn that Skyler was on the receiving end of such dedicated vitriol and poison-spitting, notably on two Facebook pages entitled "I Hate Skyler White" and the other, less gentle "F*** Skyler White". The type of posts on these pages were in line with plenty of other spew that you'd encounter on online forums, where people seem to forget (or don't care) that what they write can be publicly viewed. Most of the posts and comments are really not worth reprinting, but typically called Skyler a bitch, on the basis that she had an extra-marital affair, and for being opposed to Walt's new criminal career choices. (Even more ridiculously, some comments indicated blurred lines between Skyler the character, and Anna Gunn herself, at least one even threatening to kill the actress – which understandably caused Gunn to fear for her safety.)
Side note: I tweeted Anna Gunn's editorial, along with the question, "Why do #strongwomen characters receive so much hatred?", and a random person replied "She's not a strong woman. She's a bitch". Ohhh, a bitch, I see. Why didn't I think of that?
Typical "meme" posted on such Facebook pages as mentioned above.
So my question, then, is this: was there a reason behind all this Skyler-hating? The negative comments and judgement of Skyler intensified after airing of the episodes where she found out that Walt was a meth cook and dealer, and were focused on her reaction to this knowledge and the way she subsequently related to him.
Was it simply that she was not fulfilling her traditional role as a wife and mother – should she have just shut up and supported Walt no matter what? I find this position hard to understand, as it seemed that Skyler's first priority was to protect herself and her children, instincts that I feel are more fundamentally human than abiding by your marriage vows despite facing a threatening situation. She didn't sign up to be the wife of a drug peddler, with all the accompanying risks! She also received criticism for later adjusting her antagonistic position and accepting Walt's behaviour by agreeing to launder the money and hide the truth from her sister. But, come on – this also seemed like something a real live person might do. Maybe she was burying her head in the sand, but it never looked to me like greed, rather reluctant complicity in the absence of a better situation.
It also made me wonder if it was just too easy, too obvious, to hate Walt, and therefore this feeling was transferred to his wife. Conversely, did viewers feel that Walt deserved our loyalty from day one, as the protagonist? Walt started as a man who did bad things with honourable intentions, but ended up as a psychopath who did horrendous things for his own selfish gain. The genius of the writing was that because this progression was so gradual, it was easy to forget. As Anna Gunn alluded in her editorial, we were primed to empathise with Walt's original predicament, and Skyler was set up as his opposing foil all the way through. For me though, Walt's actions provoked my increasing fear and disgust. I then found myself empathising with Skyler and even cheering her on when she uttered zinger lines like "I f***ed Ted" in Season 3, or in Season 5 where she tells Walt she's biding her time, waiting. Walt: "What are you waiting for?" Skyler: "For the cancer to come back." Attacking her (as some online commenters did, quite savagely) because of these behaviours toward her husband doesn't make sense, when you take into account all the pressure she was under and how her situation had become a nightmare. Cheating on Walt seemed to be the only way she could take back some power. Waiting for him to die from his illness was the only way out that she could foresee, for herself and the kids; it would also allow her to keep the truth from Walt Junior (aka Flynn), and let him continue believing that his father was a good man.
Despite what I see as this misplaced hatred, I appreciate that this character and the way she has been perceived has prompted a discussion about how society expects women to behave. We need to remain aware that as long there are double standards of judgement for men and women, we won't reach equality among the sexes. Skyler was a strong, compelling character with many facets to her personality. This is contrary to the one-dimensional female characters we're regularly exposed to on TV and in movies, who typically play one of the following roles: the Femme Fatale who relies on her looks and sex appeal to get through life, the ball-breaking career woman, or the nagging wife/mother. Some of these elements can also be seen in Skyler, but her character is more complex than any one stereotype. She evolved from ordinary, slightly bored housewife, to being frantically worried about her dying husband, to a woman who is angry about being betrayed and deceived, to a sharp-minded co-conspirator in survival mode. Most importantly, she became a nuanced character in her own right, and more than just an accessory to Walt's plotlines. In my opinion we need to see more such multi-layered female characters appearing on screen from now on, to go beyond the stereotypes of women we've been stuck with in the past. This responsibility largely rests with the writers and producers of TV shows and movies – who are predominantly male. Let's hope they will listen to our pleas and create more active, autonomous roles for women.
What do you think – did you love Skyler or hate her – or have mixed feelings? Does this type of reaction toward a female character betray a misogynistic undercurrent in our society? I'd love to hear any comments.
~~~~~~~~~~~~~~~
Jane O'Hara has a PhD in Molecular Biology, and works as a postdoc at the University of British Columbia. She occasionally writes as a guest blogger about scientific topics, and has recently added themes of feminism and pop culture into the mix. Follow her on Twitter @Curious_JaneO