I've had my head stuck in a working group all week, estimating species distributions. So I'm a bit slow in picking this up, but thanks to PZed, I've just read an interview of Jerry Fodor in Salon. And now I'm unhappy…

This is the annoying part: the bit in bold is the question, the rest is Fodor's answer:
In 2007, you wrote an article attacking Darwinism in the London Review of Books, and experienced a lot of backlash from both inside and outside of the scientific community. Why do you think people get so worked up about Darwinism?
It's a theory that's played all sort of roles in the foundations of biology. There's a lot of people who think wrongly that if you didn't have Darwinism the whole foundations of modern biology would collapse. I doubt that's true. I'm sure it's not. But if you tell people, "There's this fundamental theoretical commitment you've made and there's holes in it," they'll want very much to defend that theory.
Most of the backlash to the book so far has been on blogs, which have been pretty obscene and debased. What's upsetting is that they tell you that they think you're an idiot, but they don't tell you why — people who aren't part of the field or who may not, in many cases, know much about Darwin. I'm not sure that all people who have been blogging about it are very sophisticated. It's frustrating because you don't know who you're talking to.
I've blogged about Fodor twice, once on my old blog, and once here a couple of weeks ago. Fodor seems to think that these posts were "pretty obscene and debased", and don't say why. and apparently I'm not in the field. Which is why I'm on the Board of Reviewing Editors of the Journal of Evolutionary Biology1. I will plead guilty to being unsophisticated, though.
I'm not sure what this means – has Fodor read my stuff, and the other posts PZed linked to[2])? If I'm one of the bloggers he's including in his criticisms, I'm insulted. In fact, I'm rather annoyed at the insult. Grrr


Phew
I put forward my reasons, and tried not to fall foul of any lawyers (play the ball argument, not the man), but either Fodor didn't read my posts (OK, OK), or he's insulting bloggers without bothering to check that his insults are well-aimed.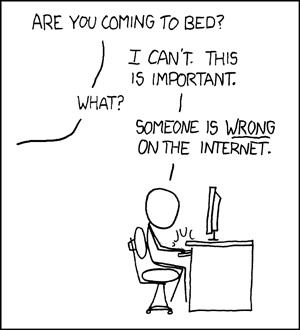 Sorry, but if you're going to insult bloggers, please make sure you've read what we write.
Aaaaagh!
This is the end of the interview:
If you're right, what do you think your argument means for the study of evolution?
If this is true, then we need to rethink the implications of Darwinism. Maybe the right question to ask is not what environmental variables are doing selection, but what kinds of complexes are they selecting on. One sees, even without God, how this Darwinian story could turn out to be radically wrong. You could see a massive failure of the evolutionary project, because wrong assumptions were made.
Jerry, please. Read the literature. If the technical literature is too difficult for you, then read some blog post that lays the stuff out in layman's language.
ahem
1 I really have to blow my own trumpet, no?
2 I'm linking to him, because I know he needs the hits, poor soul.